11th International School and Symposium
on Synchrotron Radiation in Natural Science
May 20-25, 2012, Kraków-Tyniec, Poland
TRAVEL
Conference Bus Meeting Place
The Conference Bus will be waiting for you at the parking on Ogrodnicza Street (in front of Galeria Krakowska Shopping Mall). In order to get there you need to go through a shopping mall and then cross the Pawia Street.
Bus is leaving at 2.30 pm 20. May 2012.
On the map below the meeting place is marked with the arrow and letter A.
If you have problems with finding meeting place, you may contact Konrad Tkocz at +48 884781510.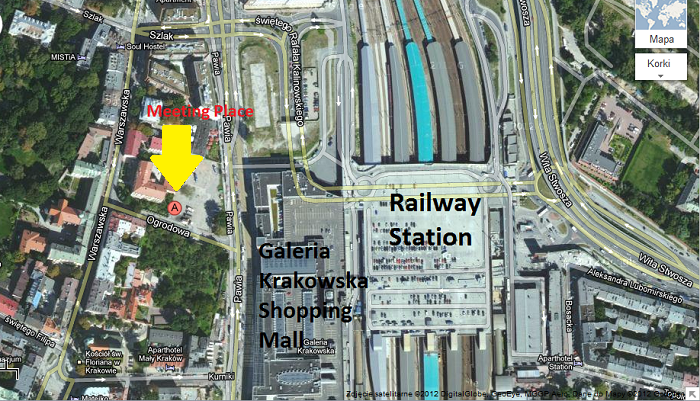 Travel from Kraków City Center to Hotel Fero Express
The hotel is located 5 km from the Balice airport, next to the Kraków ringroad exit (A4 Tyniec junction) and only a dozen minutes by car or bus away from the center of the City. See the location on the map: http://www.fero.krakow.pl/mapka.html
From Central Station the hotel can be reached by public transport:
by tram no. 12 (direction Ruczaj, departures every 10 min) to Most Grunwaldzki bus stop and then by bus no. 112 (direction Tyniec Kamieniolom, departures every 40 min) to Katy bus stop, detailed information can be found here.

See large map
the timetables of the trams and buses in Kraków click
the prices of the ticets in Kraków click. Note that the conference Hotel is situated in the Aglomeration (second) Zone. We recommend to buy a 60- or 90-minute ticket.
Direct Access to Kraków
by plane from: Amsterdam, Athens, Barcelona, Berlin, Birmingham, Bologna, Bonn/Cologne, Budapest, Copenhagen, Chicago, Dortmund, Dublin, Dubrovnik, Edinburg, Frankfurt, Glasgow, Hamburg, Helsinki, Liverpool, London, Manchester, Milan, Munich, Naples, New York, Oslo, Paris, Prague, Reggio di Galabria, Rome, Stuttgart, Tel Aviv, Torino, Vienna, Zurich.
The regular flights are made by: LOT Polish Airlines, British Airways, Lufthansa, Austrian, Norwegian, Swiss Airlines, SAS and EasyJet, Germanwings, Ryanair.
Regular train services between the airport and the center of Krakow takes only 15 min.
by train from: Berlin, Hamburg, Budapest, Bucharest, Kiev, Lviv, Prague, Vienna, Warsaw
Additional possibilities to reach the City
Plane to KATOWICE and than by train to Krakow Główny
Plane to WARSZAWA (Warsaw) and than by train to Krakow Główny
Plane to WROCŁAW and than by train to Krakow Główny